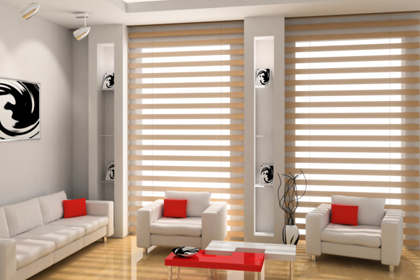 Lighting has a huge impact on the look and feel of a space – and among the most important considerations is how natural sunlight will affect the overall design. Many buildings are designed with sunlight in mind – as can be seen from the recent architectural trend for glass-walled houses. But even with traditionally-designed properties, understanding the importance of light will help to choose the most appropriate furnishings and colour schemes.
Window dressings make a huge contribution to the lighting of a room, and for the maximum impact the design and structure of the building should be taken into account when considering what to buy. For instance, a north-facing room will receive much less sunlight all year round and "colder" light in general than others, so the right window shades can help to let more light in and filter it for a more welcoming appearance.
Meanwhile, a south-facing room is a real sun spot – you may wish to choose heavy curtains or blinds if you want the option of blocking out the light (for instance, in a study or bedroom) or alternatively lighter vertical blinds, such as these ones from Direct Blinds, to make the most of the sunshine coming in. Whichever way you want to control the light in a room, there will be a window dressing to suit it.
The colour scheme is the next thing to consider when working with natural light. The quality of light a room receives is the reason a shade that looks modern and stylish in one room will look drab and dingy in another, so it's important to choose something that will complement both the direction of the room and the window furnishings that have been chosen.
Sunny, south-facing rooms have warm light that works well with correspondingly warm colours: reds, yellows and oranges. This is also the ideal environment to bring out the best in rich natural wood, such as mahogany or oak, either in the furnishings or the flooring – a feature many designers and architects have taken into account in the past. One general rule is to avoid pure white walls in south-facing rooms, which can appear dazzling when the sun is strongest.
North-facing rooms accordingly look better when decorated in muted, neutral tones like cream and pale pinks, yellows and browns. However, the lack of natural light can be compensated for by installing warmer artificial lighting and letting this do the work, allowing more freedom in the choice of designs and colour schemes. Another trick is to use reflective flooring to maximise the amount of natural light in the room.
For more information call 0845 5274 325 or visit http://www.directblinds.co.uk/.