The London Legacy Development Corporation has won two major designs awards including ??Overall Winner?? for its work to shape the future Queen Elizabeth Olympic Park and the surrounding area.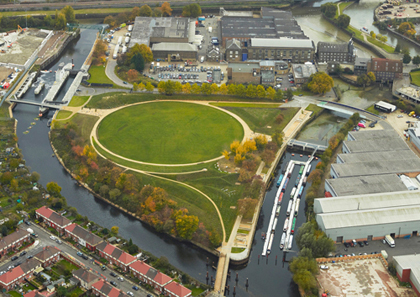 The New London Awards are awarded by New London Architecture for high quality architecture, planning and development projects in the Capital.
The Legacy Corporation was awarded the prestigious ??Overall Winner?? accolade for the Legacy Communities Scheme ?? a masterplan of five new neighbourhoods, providing thousands of job opportunities, that will be developed on the Olympic site after the Games.
The Legacy Corporation also won the Public Spaces award for ??Stitching the Olympic Fringe??, a series of public space projects in the areas surrounding the Olympic site.
Andrew Altman, Chief Executive of the London Legacy Development Corporation (LLDC), commented: ?This is a great endorsement of our vision to set a high global standard for building a new piece of the city that is also a catalyst for the regeneration of the wider area. London continues to push the boundaries in being further ahead in planning legacy than any previous host Olympic City. These awards show that the quality of our work is matching our ambition.??
Peter Murray, Chairman of New London Architecture and chairman of the awards jury, added: ?The Olympic Legacy Masterplan is the most sophisticated post-Games strategy of any Olympics ever and is the whole raison d??être for holding the event in east London.??
The Legacy Communities Scheme, which was given planning approval last month, covers 64 hectares (158 acres) of the 226 hectare (558 acres) Queen Elizabeth Olympic Park with up to 6,800 homes planned across five neighbourhoods. They will serve new and existing residents of East London with new schools, nurseries, community spaces and health centres.
The plans also set out more than half of the 8,000 permanent jobs which are anticipated to be created on the Park over a 20 year period, from when it begins to reopen in July, 2013.
The ??Stitching the Olympic Fringe?? project includes public realm projects in Hackney Wick and Fish Island, Three Mills Green, Hackney Marshes, Bow Riverside, Leyton High Street, and Stratford Public Realm. In particular, the judges commended the Legacy Corporation for their ongoing engagement with local communities in areas around the Park.
The Legacy Corporation was also closely involved in the Hackney Marshes Centre, winner of the Sport and Play category, and had a number of other shortlisted projects.