How the New Zealand design company, Method Recycling, is challenging office waste behaviour with its 'Open Plan Recycling' philosophy.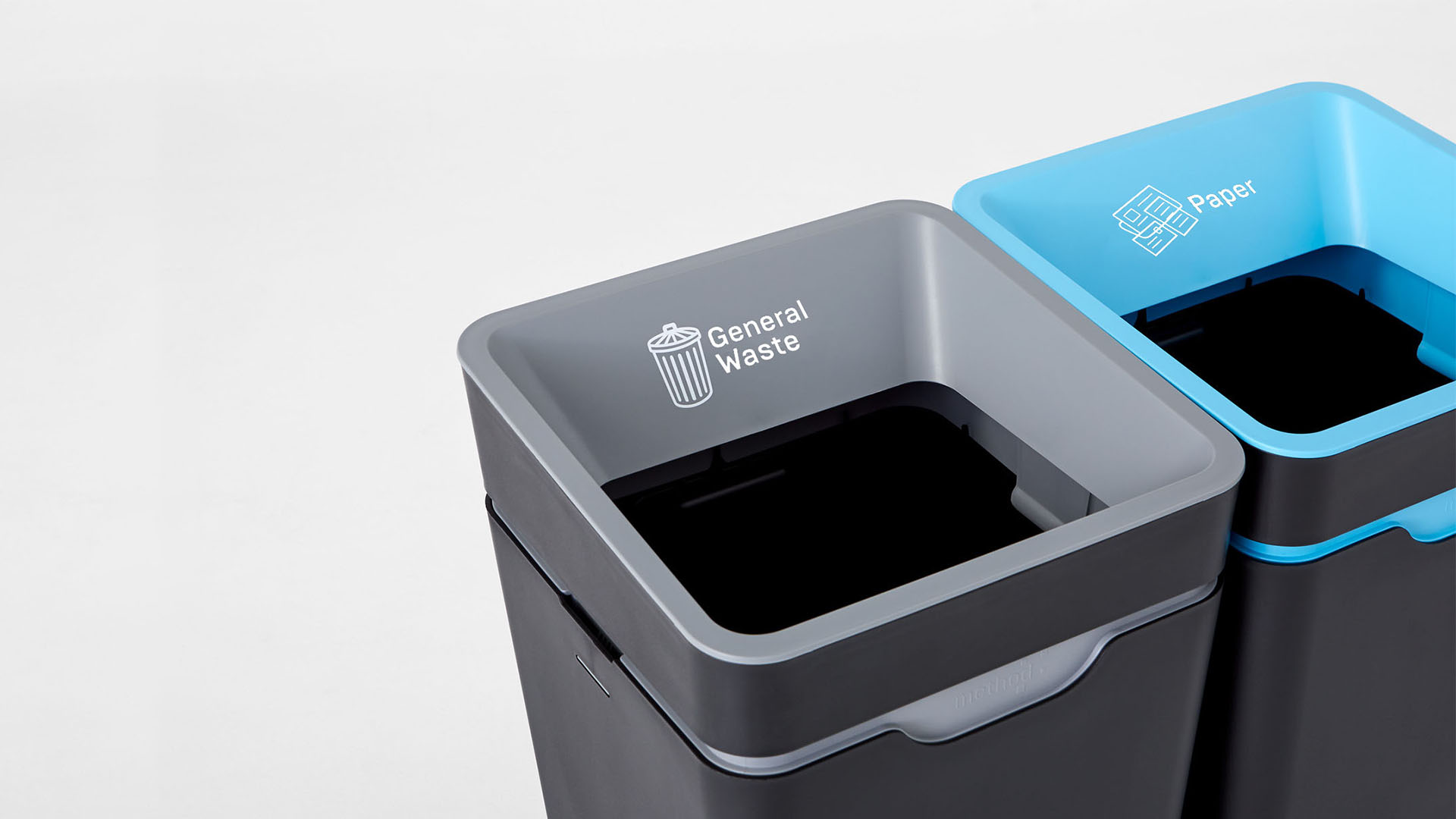 Recycling has become headline news once again as the European Parliament has voted for a complete ban on a range of single-use plastics across the union in a bid to stop pollution of the oceans.
As businesses, there is a responsibility to support the growing need for waste reduction, and in particular, recycling.
Since 2015, Method has been challenging office behaviour with recycling products for offices and co-working spaces. Based in New Zealand, Method is the creation of Steven and India Korner who spent three years mastering these award-winning products. The thriving business received two awards in the Best Design Awards from the 'Designers Institute of New Zealand' for recyclable packaging and product design. Method has been the long-term sustainability partners for accounting software Xero, Wellington Airport, University of Melbourne, Sydney Cricket Ground, KeepCup, and supplied the offices of the world's most innovative sustainable automobile company.
Method has now chosen the UK as its next venture to challenge waste behaviour in the burgeoning co-working environments and offices of the largest design practices. The company's first client in the UK was internationally-renowned architecture firm Foster + Partners who chose Method's products to help reduce waste from its London headquarters.
Open plan and agile workspaces have eclipsed closed offices and cubicles in recent years. Re-thinking how modern offices work has reshaped how they are designed; from desks, to kitchens, to the power used. Yet, decisions about waste have long been neglected, leading to systems that are inconsistent or hidden away from sight. With Method's 'Open Plan Recycling', this becomes a core part of the office interior.
Method explains that businesses can "enhance the success of your recycling bins by placing them where they will naturally be used; the Organics bin could be beside the coffee machine, the Paper recycling bin by the printer, and the freestanding stations where they'll be most noticed."
Visible recycling bins reinforce accountability, which Method found is a key component for progress. "When people know they're being watched, even subconsciously, they tend to take more thought over their decisions and are more likely to sort their waste accurately. Precyclers are a short-term solution for your desk that hold waste and recycling before they reach your recycling station. They eradicate the need for individual desk bins and make Open Plan Recycling more effective."      
Method has observed changes in office waste behaviour as employees are motivated to change behaviours at work and subsequently at home, united by a larger purpose, while waste service providers receive waste that has been accurately sorted at source.
"As a society we're becoming more ethical with our consumption, with more people actively buying from environmentally and socially responsible businesses than ever before. Open Plan Recycling is a great way to show your commitment to environmental initiatives in order to attract customers and increase profits." – Method Recycling.
07763 525 668
www.methodrecycling.com