As part of UK Construction Week, the Surface and Materials Show, 9 – 11 October, will be bringing materials to life, assisting architectural specifications for the future.
Surfaces and materials achieve much more than simply defining a building's appearance: they conserve energy, resist the elements, improve wellbeing, inform experience, and safeguard inhabitants. The surfaces and Materials Show will be bringing all this and much more to life during UK Construction Week this year.
Surfaces and materials are integral to an architect's design, so it's no surprise that this year's show is swarming with dynamic products. Sitting alongside eight other shows as part of the UK's premier built environment event, Surface and Materials will showcase the most innovative design and construction materials on the market today. With dozens of exhibitors, an Innovation Trail, and a dedicated seminar programme, this event is not to be missed.
Architects, designers and specifiers will be roused by the selection of exhibitors including: BLFA, Bruag, Fibo UK, Formica, Pfleiderer and Soyang Europe. New products and exclusive launches will be displayed including International Decorative Surfaces' Showerwall & Malmo bathroom panelling system.
Nathan Garnett, UKCW event director, said: "We've packed this year's show with product launches and creative ideas that will inspire architects, designers and specifiers. From colour forecasts to bionic buildings, there will be topics that anticipate all the major technological, cultural and societal trends.
"There will be practical demonstrations of best practice installations, new applications and techniques, and the opportunity to attend workshops and seminars covering high-end to high-tech. The big issues of the day, including fire safety, wellbeing and indoor air quality, will also be up for discussion."
The latest in design, research and development will be displayed at the dedicated Surface and Materials Hub, which will play host to some of the UK's leading experts from the field of design and construction. Visitors can access trend and colour forecasts with Nina Bailey, UK design manager for Formica Group Europe; understand the possibilities of visual concrete with Elaine Toogood, senior architect at Concrete Centre; and learn about surface emissions traps from John Mattsson, CEO of cTrap. These speakers will explore how we experience spaces through colour, shape, texture, and light, as well as showcasing innovative green techniques and materials.
The 'Future of Construction' is UKCW's 2018 theme, exploring the latest innovative ideas, products and systems. The Innovation Trail showcases what's on offer for the interiors sector. Exhibitors include 4M Works, Bruag, Crown Décor PVT, Decorative Panels Lamination, Fibo UK, Impress Surfaces, Morland, Soyang Europe and William Smith.
Debates on major construction issues will take place on the UKCW Stage. Speakers include Ben Derbyshire, RIBA president and Barbara Res, the project manager behind Trump Tower, discussing her experiences as a female in construction.
Other benefits include the Role Models initiative and the Beer Festival sponsored by Velux.
Free visitor tickets are available online and allow access to all UKCW shows: Build Show, Energy 2018, Timber Expo, Building Tech Live, HVAC 2018, Civils Expo, Plant and Machinery Live, and Grand Designs Live.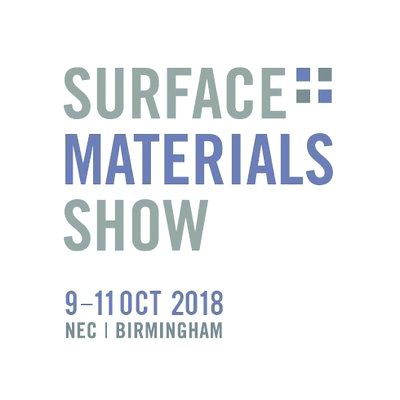 www.surfaceandmaterialsshow.co.uk 

@smshowUK #SMShow2018